Q

– What's the difference between Sponge Daubers (

102892

) and Stamping Sponges (

101610

)? I'm glad you ask that!

A

– Sponge daubers are small sponges attached to a plastic tube that fits on the end of your finger. Use with ink pads to add color to stamped and/or heat embossed images or to create a polka dot effect on plain card stock. You might want to place a small label on each dauber, indicating the color you have used with that dauber.
Stampin' Sponges are just that, sponges. They are about 2 3/4″ in diameter and come three to a package. They can be cut into convenient wedges and used to add a subtle touch of color to the edge of card stock or Designer Series Paper. They can also be used to add color to a stamped and/or heat embossed image but may not be as precise or controlled as using a Dauber.
You can rinse them and reuse with different colors or create a tag with card stock of the same color, write the color name on the card stock and keep them in small plastic bags for further reuse.
You should have

both daubers and sponges

in your supples. Each has a purpose in enhancing the beauty of your hand crafted cards.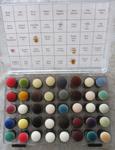 This is my sponge dauber storage. My sister Marie gave this to me and I just love it.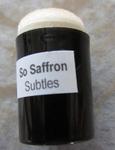 Sponge Dauber
$10.95 (12 per package)
Stampin' Sponges (wedge)
$3.50 (3 per package)