Do you have children in your life?    
Your own or someone else…..                                           
Grandchildren, niece or nephew,  leader of a Scout group, or church group….I could go on & on.
What do you think about having a positive project like this one for the children?!?
Create a gratitude banner/journal)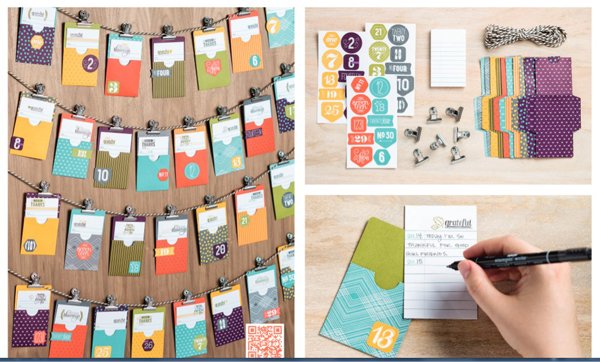 Record your gratitude day by day with the Gratitude for Days Simply Created Kit. We've done the designing and color coordination; you get to journal something you're grateful for and slip it into the pocket. Pull it out year after year as a reminder of the good things in your life. This video will show you how to create a beautiful home décor piece that doubles as a gratitude journal.
Price

:

$15.95

       #136818
Take a moment to sit back and reflect on everything you're grateful for this holiday season. And with just the right sentiments and accents, this versatile stamp set is sure to be added to your list of blessings. Photopolymer. Set quantity: 22.
Life is a little sweeter when you take a step back to recall how good we have it. Record your gratitude from day to day and hang them up as a reminder with these colorful cards and pockets. Kit includes 33 cards and 30 pockets, as well as stickers, binder
Weekly Deals Ends Tuesday 16
LAST DAY!